Colorful Marble Garden Statue Four Seasons Decor for Sale MOKK-693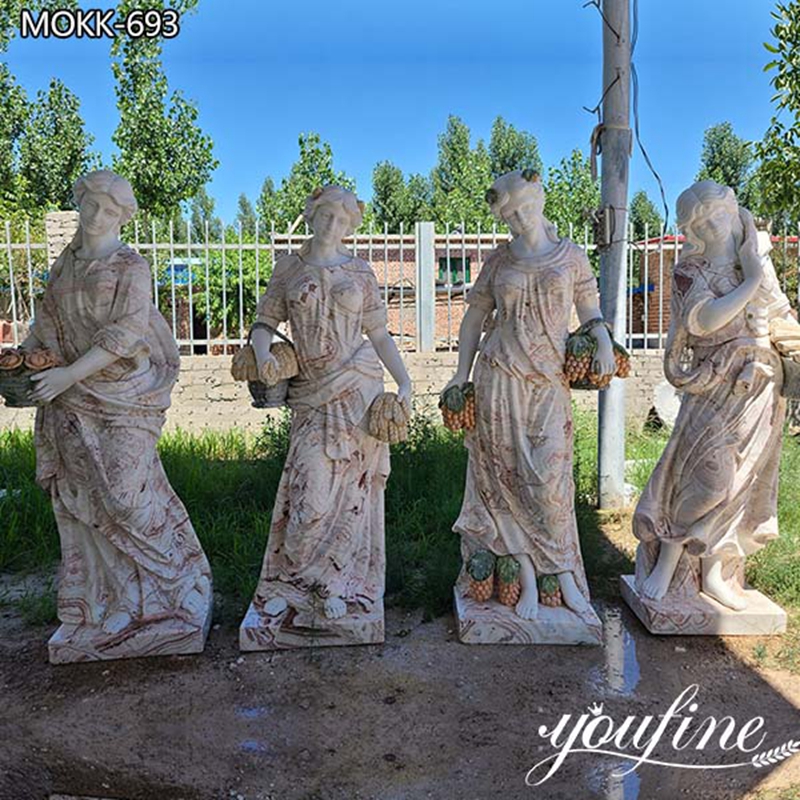 A beautifully carved marble statue of the Four Seasons goddess is a nice garden ornament. If placed in your garden, it would add romance to it.
Item No: MOKK-693
Size: Customized
Material: Marble
Quality: 100% Quality Insurance
Package: Strong Wooden Crate
Technique: Hand Carved and Polished
Colorful Marble Garden Statue Four Seasons Decor for Sale MOKK-693
Four Seasons Statue Details:
This marble Four Seasons Goddess statue set has a very bright color and many people love it. Its exquisite design has won the praise of many people. The four goddesses wear colorful dresses, each representing a different season.
The goddess representing spring holds a flower pot in her hand, which means that spring is coming, flowers are in full bloom, and it is a thriving scene. The goddess of summer carries a basket full of grapes, which explains that in hot summer, you need a bit of cooling. The goddess representing autumn takes food. It means that autumn is the harvest season. People would reap a lot of fruit this season. The seasonal element on the goddess representing winter is the firewood used for heating, which could bring a touch of warmth to people in the cold winter.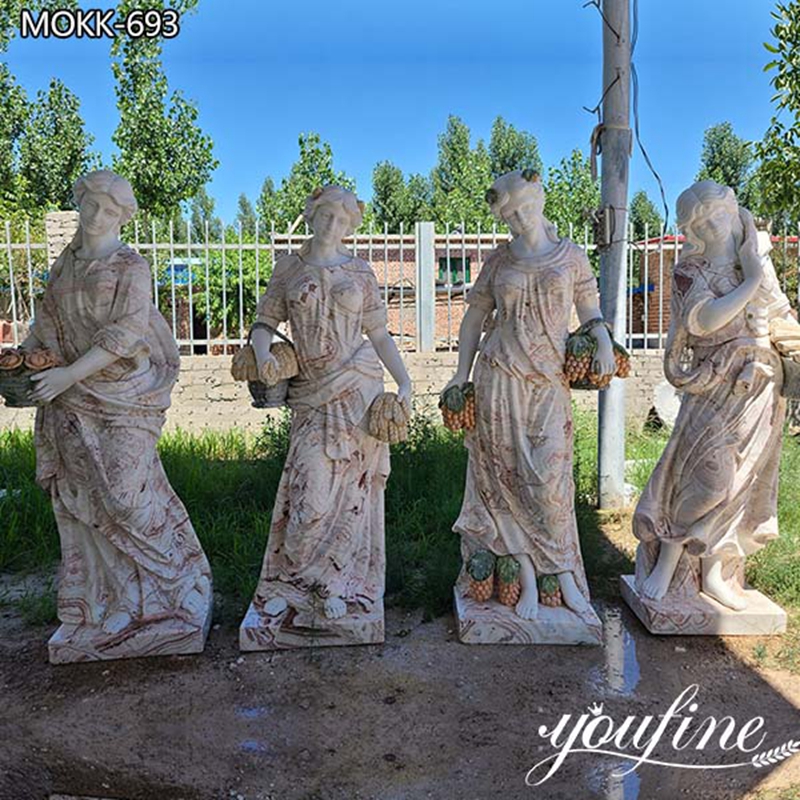 Natural Marble Raw Material:
Such a beautiful goddess sculpture is made of different colors of purely natural marble. Natural marble has the characteristics of natural color and long service life. It is easier to carve, and the figures are extraordinarily vivid. That's why our marble Four Seasons Goddess sculpture is so delicate.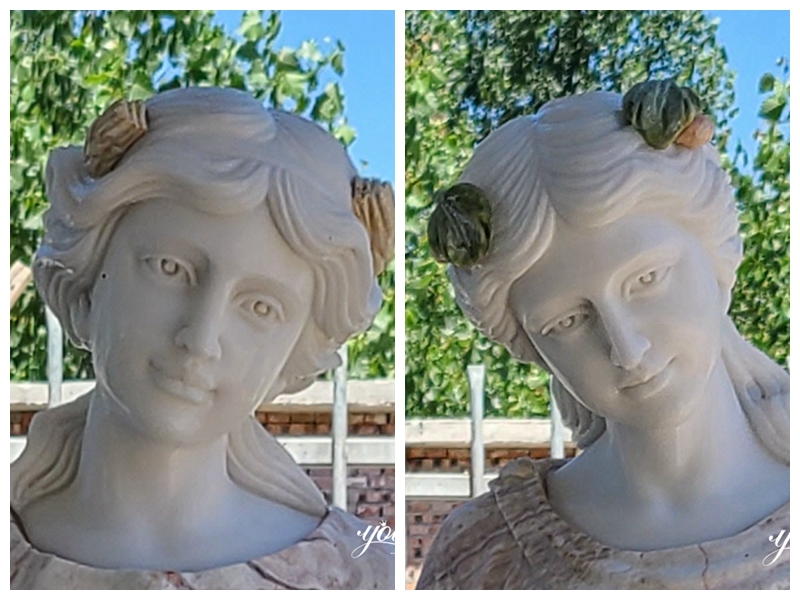 If you look closely, you would find that their looks are very pleasant, and their faces are filled with the youthful feeling of girls. They have a unique charm that belongs to young life when they stand at would. In addition, various decorative details on the clothes, layers of petals of flowers, and plump fruits are shown realistically. These show the beauty of natural marble.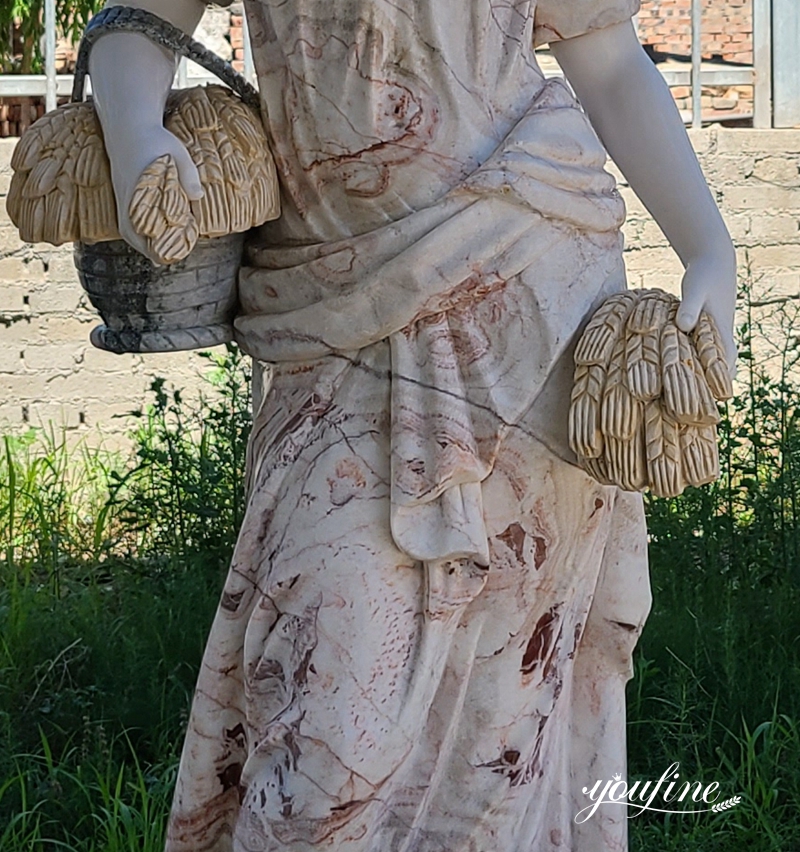 Support Custom Four Seasons Goddess Sculpture:
The goddess of the four seasons represents people's love and yearning for the four seasons of a year. Their rich design and various color combinations always bring new ideas to people. Therefore, there would be many people who want to design a Four Seasons Goddess sculpture set according to their own preferences. We also fully support this. We would choose the color, size, and material according to the customer's preference, and design a unique Four Seasons Goddess sculpture for them to add more color to their interesting life.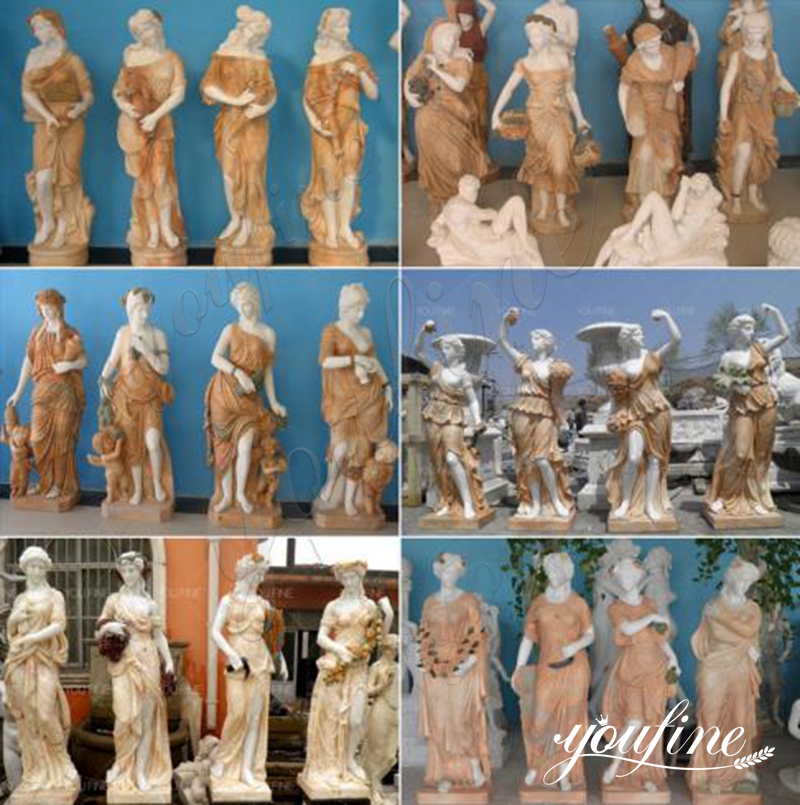 Our marble Goddess of Four Seasons sculptures is of high quality and have good looks. If you are interested in it, please contact us now. We would get back to you as soon as possible.
Get Latest Price
If you need the latest price list, please leave us a message here, thank you! We guarantee that your information will not be divulged to third parties and reply to you within 1 hours. Tell us your needs, there will be more favorable prices!