Beautiful Hand Carved White Marble Angel Statue Wholesale MOKK-847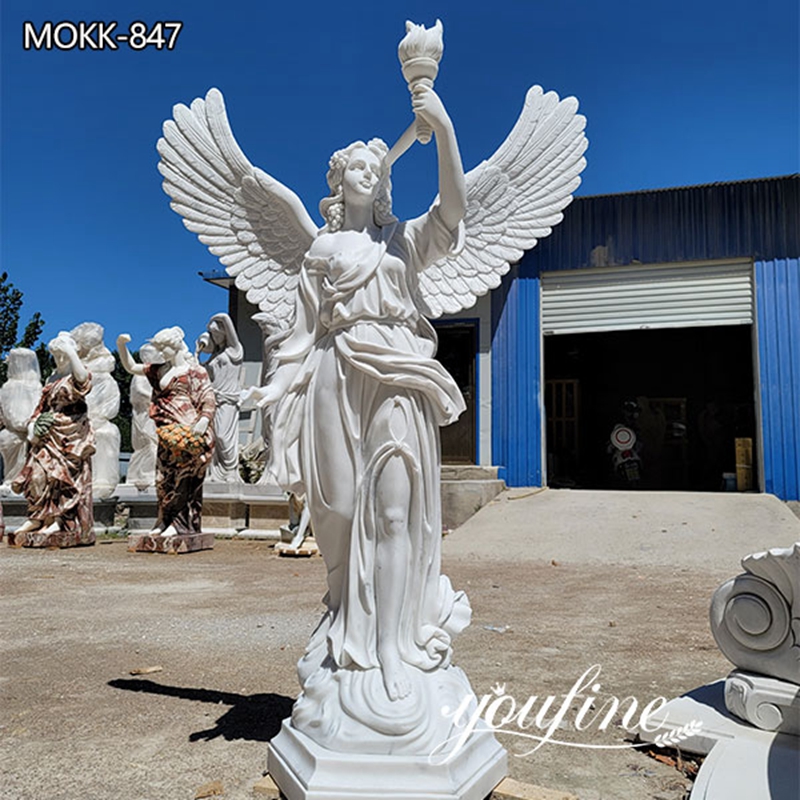 The hand-carved marble angel sculpture is a very nice piece of art. The angel's graceful figure is perfectly displayed by the sculptor. We could also customize an angel sculpture for you according to your needs.
Item No: MOKK-847
Material: Natural Marble
Advantage: Factory Direct
Service: Customized Service
Color: Customized
Insurance: Cover all the risks
Package: Strong Wooden Case
Beautiful Hand Carved White Marble Angel Statue Wholesale MOKK-847
Marble Angel Statue Details:
Angels have always been a symbol of beauty in people's hearts. This marble angel sculpture has a very beautiful design. The female angel holds the torch in her left hand high and places it in front of her to examine it carefully. The right hand is placed beside her casually, very elegant. Her hair is curly, and she wears ornaments such as grapes on her head, which makes the angel more attractive. The dress design is also beautiful, with a casual and messy aesthetic. The looming skin is exposed, and it also shows the unique charm of women.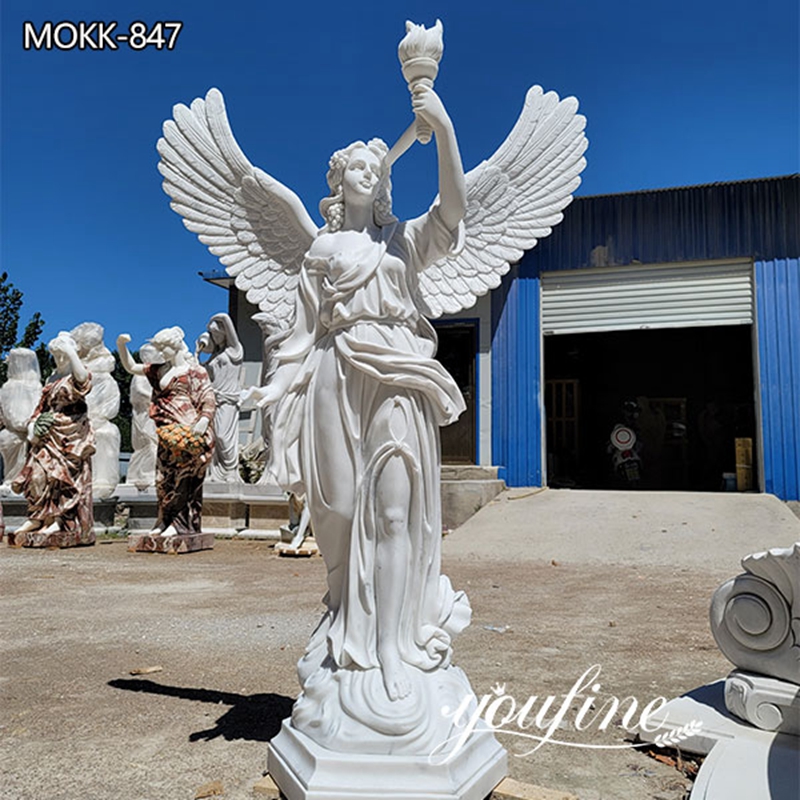 Pure Hand Engraving Advantages:
Compared with machine carving, pure hand carving could better show the details of angel sculptures. Just like this beautiful female angel, her facial expressions are vivid. The deep eyes and tender expression all show her holiness. The beautiful and stylish wings spread out behind her, the carving details on it are clearly visible, and each trace is meticulously carved by our artists. Light clothes sway freely in the wind. The elegant feeling of clothes is also subtly displayed by our sculptors. The whole sculpture is a perfect work of art.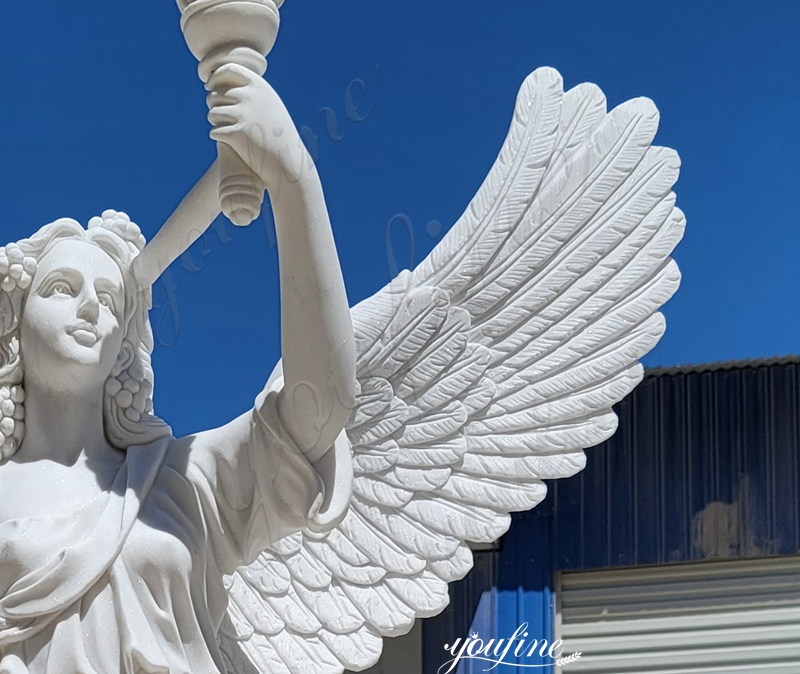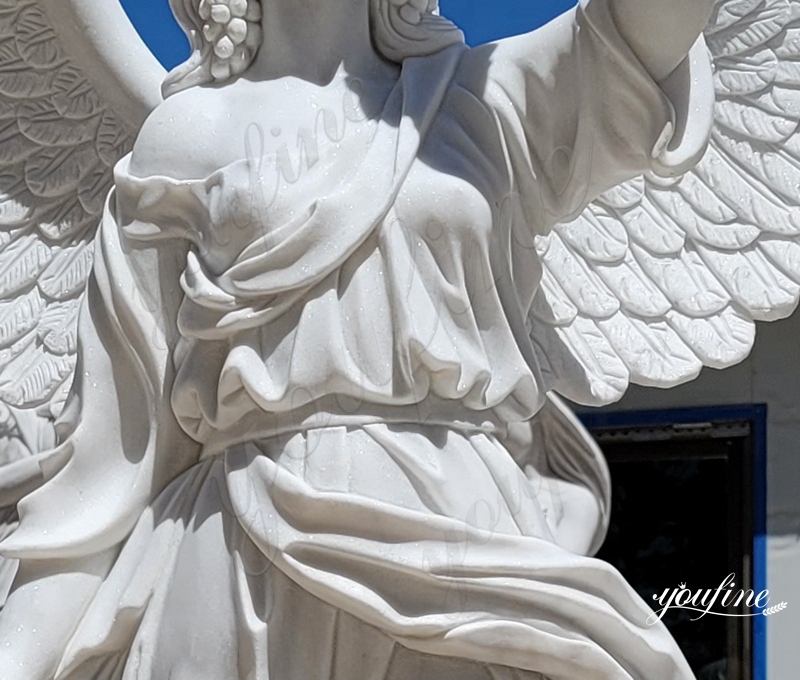 Support Customization:
We have a lot of angel sculptures, and they come in a variety of shapes. There are praying angels, flying angels, etc. The colors are also very rich, which could meet the diverse needs of customers. If the customer wants to customize one, we could also design it. We have a professional design team who could design styles, colors, and sizes according to customer needs.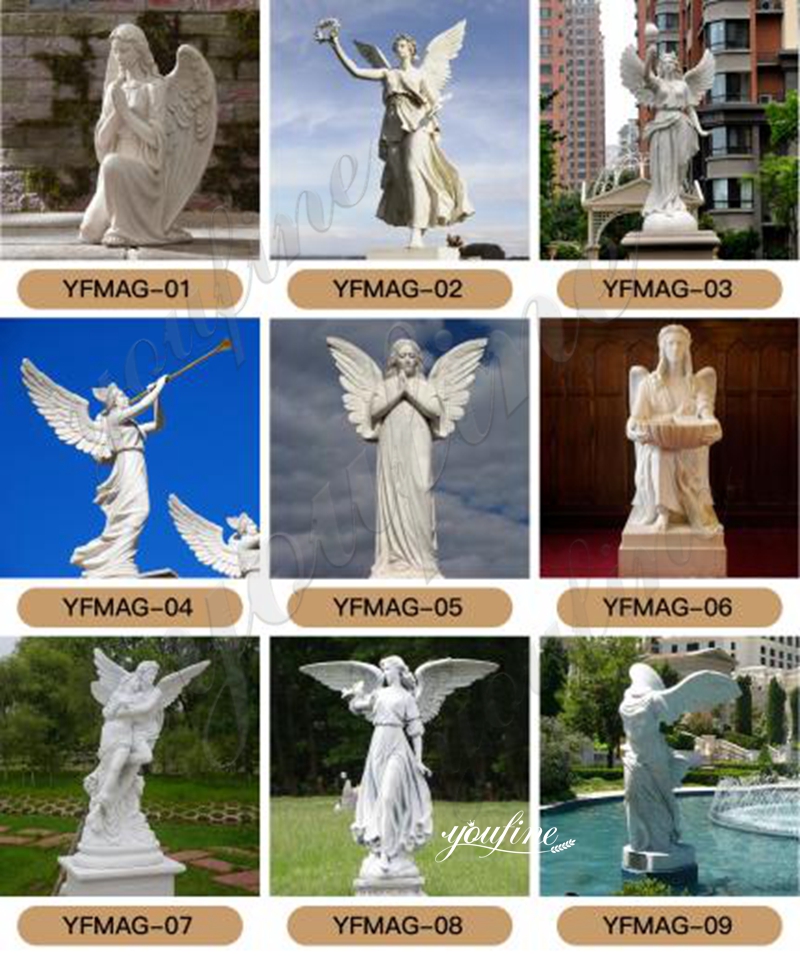 YouFine's Security:
All the angel sculptures we sell would be packaged in the most professional and safest way. Usually, we would wrap the marble sculpture with soft foam to protect the angel from damage. When packing, a 3 cm thick wooden box would be used. This thickness of the box would avoid accidents during transportation.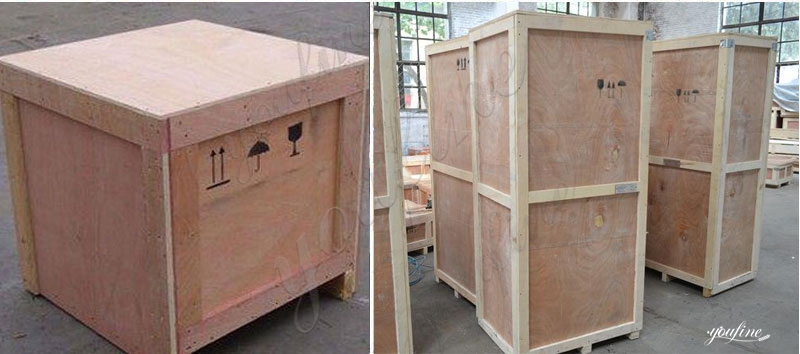 If you want to buy our marble angel sculpture, please leave us a message through the following methods, we would reply to you in the shortest time after receiving it.
Get Latest Price
If you need the latest price list, please leave us a message here, thank you! We guarantee that your information will not be divulged to third parties and reply to you within 1 hours. Tell us your needs, there will be more favorable prices!