Hand Carved Beautiful Angel Headstones with Competitive Price MOKK-903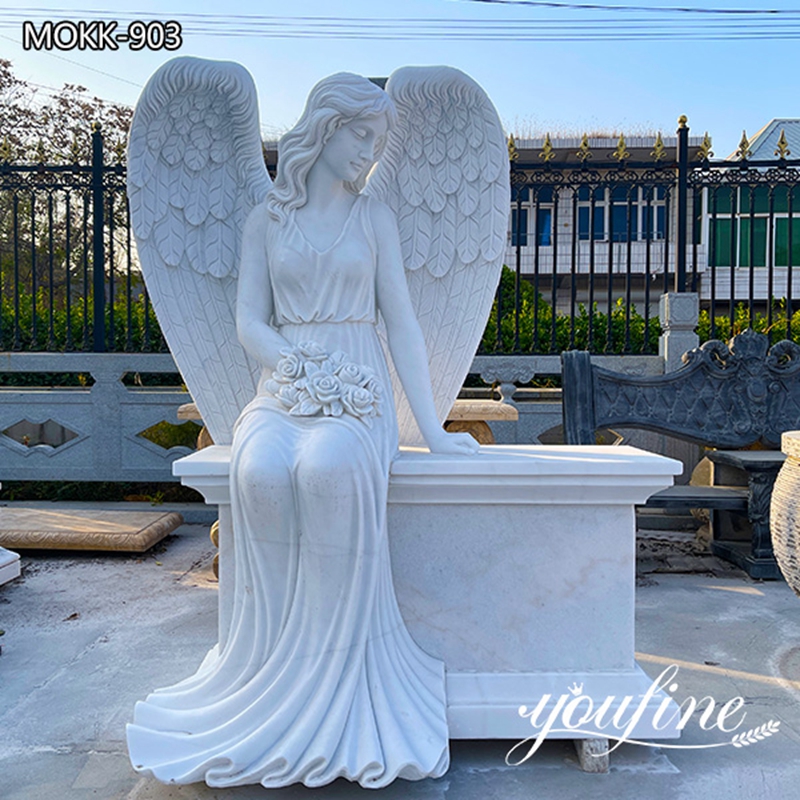 This beautifully designed marble angel tombstone is hand-carved by YouFine's designers. Its delicate shape and full of details give the tombstone its soul.
Item No: MOKK-903
Material: Natural Marble
Color: White or customized
Technique: Pure Hand Carved
Size: Life Size or Customized
Insurance: Cover all the risk
Packaging: Standard Export Package
Advantage: Factory Direct; Door to Door Delivery
Hand Carved Beautiful Angel Headstones with Competitive Price MOKK-903
Details of Beautiful Angel Tombstone:
This beautiful angel headstone is made of natural marble. So the surface of tombstones and angels has a luster and feels like jade, and its quality is also very high. The angel sits gracefully on the table. She held the table with one hand and placed flowers on her lap with the other. Behind her is a pair of large and beautiful wings, which makes the angel purer. And the white color also adds a holy halo to the angel, making the angel more beautiful and elegant.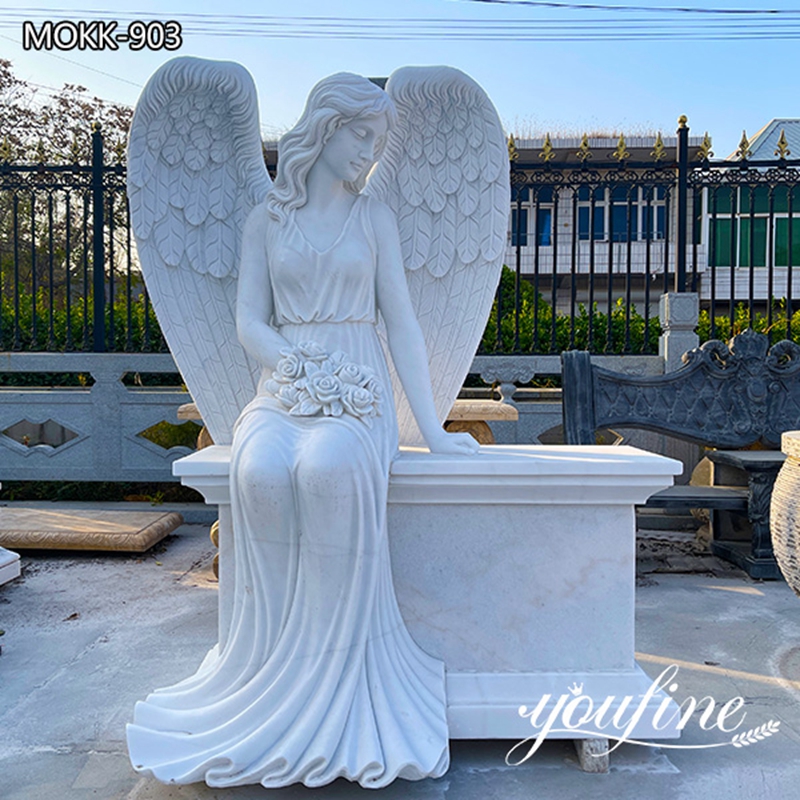 Advantages of Hand Carving:
All our marble angel sculptures are completely hand-carved by artists. So many details of the sculpture are well displayed. For example, the feathers on the wings, the clusters of flowers in the hands, and the clustered petals are all perfectly displayed. And it is so beautiful that people who see it couldn't help but sigh at the charm of art. And the beautiful dresses of angels are also very realistic. The folds are arranged layer by layer, and their lightness is vividly reflected. All these details may be beyond the reach of machine carving.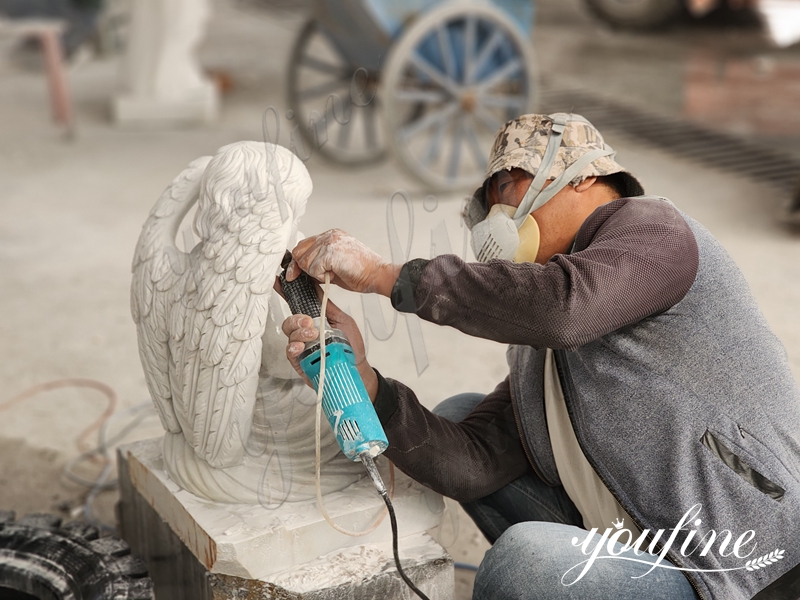 Our High Quality:
In addition to being hand-carved, our angel tombstones are also made of A-grade pure natural marble. This raw material is of high quality and it is easy to crave. The craved angel would be more vivid, and it is also easy to stand for a long time. Even if it is left for a hundred years, its quality would not be affected too much. The charm of purely natural marble is reflected here.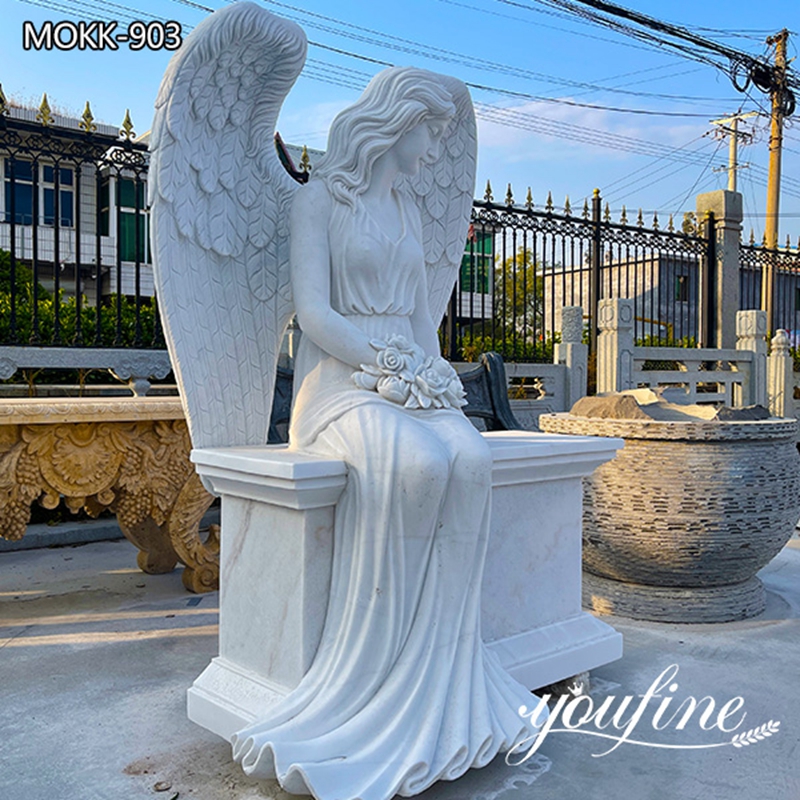 With Good Price:
Many people want to buy a high-quality marble angel tombstone sculpture at a good price. At YouFine, we could satisfy this idea for you. All of our Angel Tombstones are factory direct. If you buy our tombstone, you could avoid the premium at the source and buy the same quality angel sculpture at a lower price.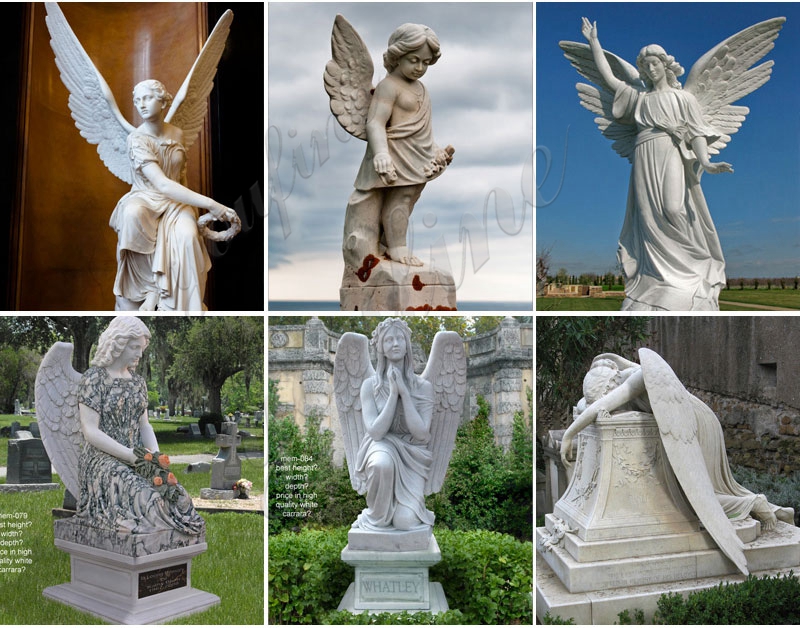 So, if you want to buy our beautiful angel tombstone at a suitable price, please leave us a message through the contact details below. We would reply to you in the shortest time after receiving the message.
Get Latest Price
If you need the latest price list, please leave us a message here, thank you! We guarantee that your information will not be divulged to third parties and reply to you within 1 hours. Tell us your needs, there will be more favorable prices!