Outdoor Marble Four Seasons Statues Garden Square Decor for Sale MOKK-812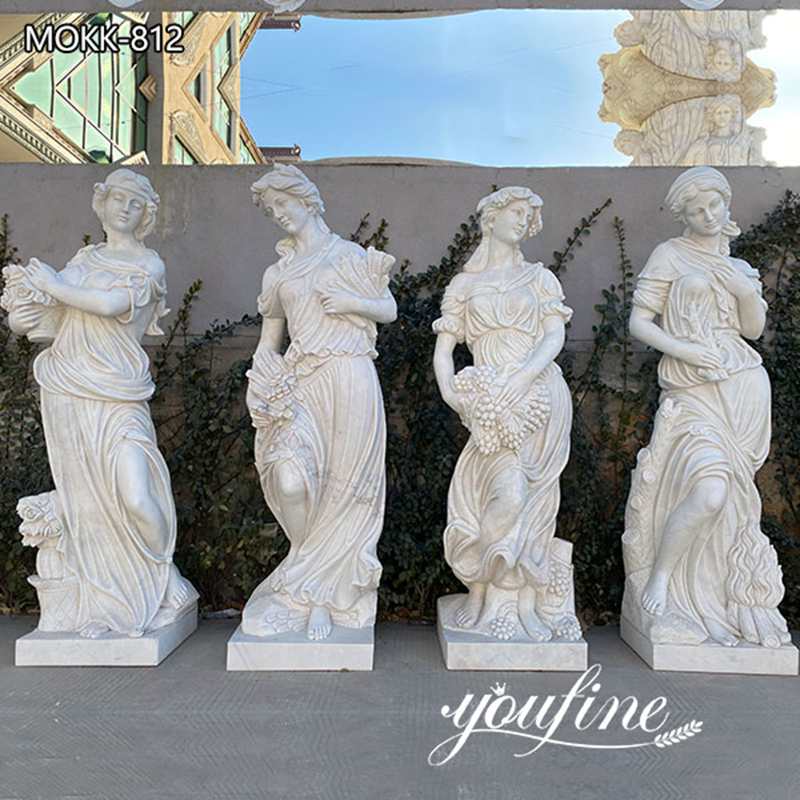 These beautiful Four Seasons statues are masterpieces of the YouFine factory. These sculptures put together the overall picture is very spectacular. Let everyone passing by stop and watch. If you are interested in this sculpture, you could contact us at any time.
Item No: MOKK-812
Material: Natural Marble
Technique: Pure Hand Carved
Size: Life Size or Customized
Insurance: Cover all the risk
Packaging: Standard Export Package
Usage: For Art/Collection/Garden/Plaza
Advantage: Factory Direct; Door to Door Delivery
Outdoor Marble Four Seasons Statues Garden Square Decor for Sale MOKK-812
Four Seasons Statues Details:
When you see these Four Seasons statues, you could feel a symbol of love and strength. They have different forms, and each sculpture has its own characteristics. Especially their hairstyles and clothes have unique styling beauty. When your garden has these sculptures, it must be full of different attractions, and everyone is deeply moved by these sculptures.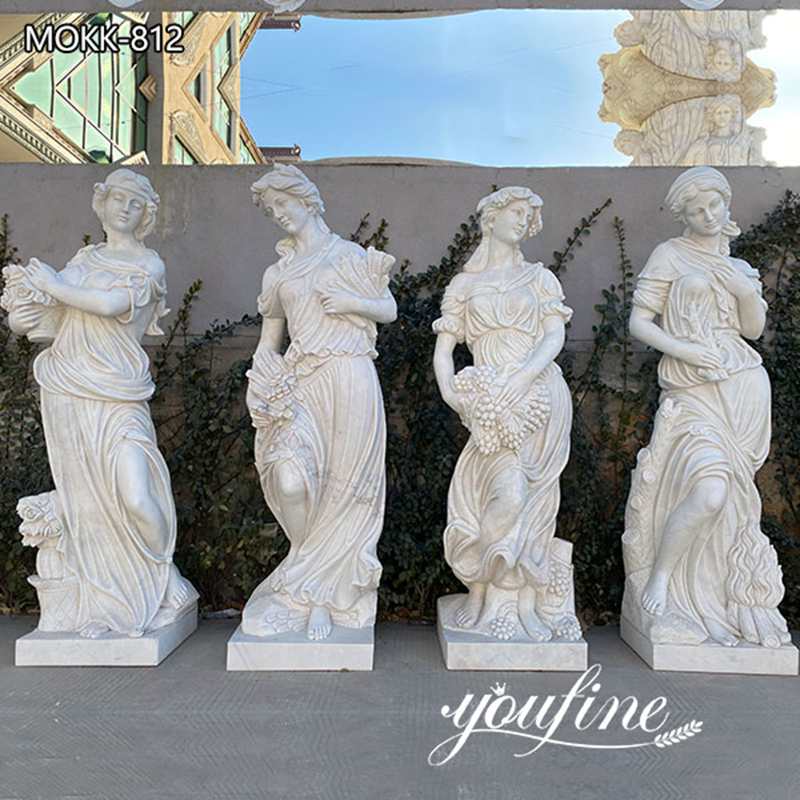 The Meaning of Four Seasons Statues:
The Four Goddess Seasons is a figure in ancient Greek mythology, in charge of the four seasons of mankind. The marble four goddess seasons sculptures have different shapes, full expressions, and elegant postures. When people appreciate it, they could feel the changes in different seasons and realize that life is like the four seasons. We have experienced various challenges, encouraging us to have the spirit of adapting to the times, not giving up, and going forward courageously.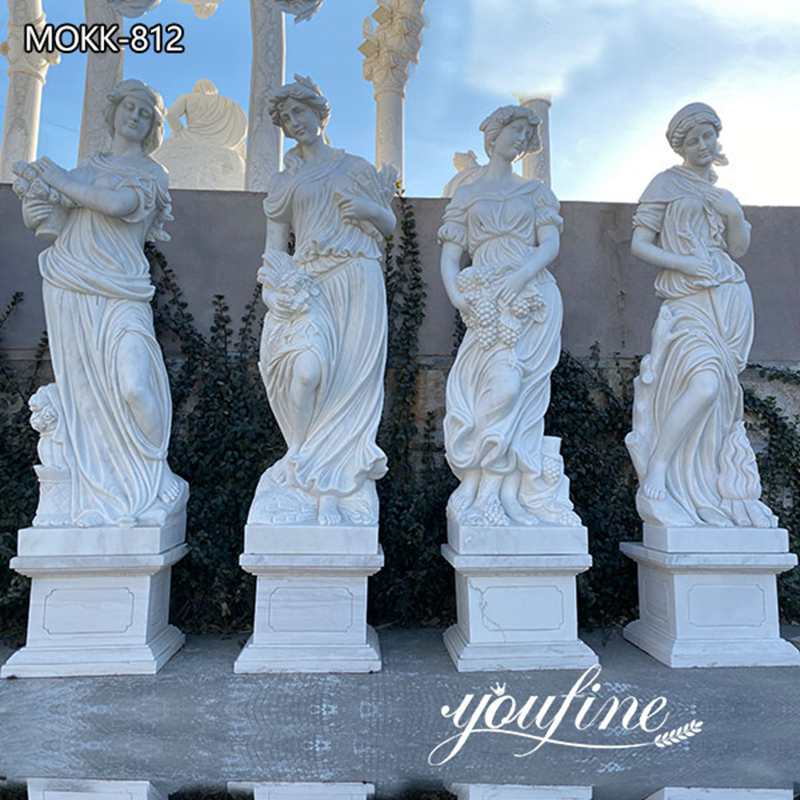 More Marble Statue Designs:
Of course, as a marble sculpture exporter for 40 years, the YouFine factory has a large number of marble sculptures. We could supply all kinds of marble products, such as marble fountains, marble pavilions, marble fireplaces. marble figure statues, marble pillars, marble flower pots, etc. Of course, we also accept customization, and we could provide high-definition design drawings according to ideas.
Excellent Artists:
YouFine factory artists have learned the carving techniques of marble figures since they were young, and they have been in this industry for 30 years. So there is no doubt that these artists could portray the details of the Four Seasons statues. Of course, You Fine factory artists specialize in character carving, and they have been studying and perfecting their skills, and never stop exploring. If you have any questions about sculpture, YouFine factory artists are willing to communicate with you to answer your questions.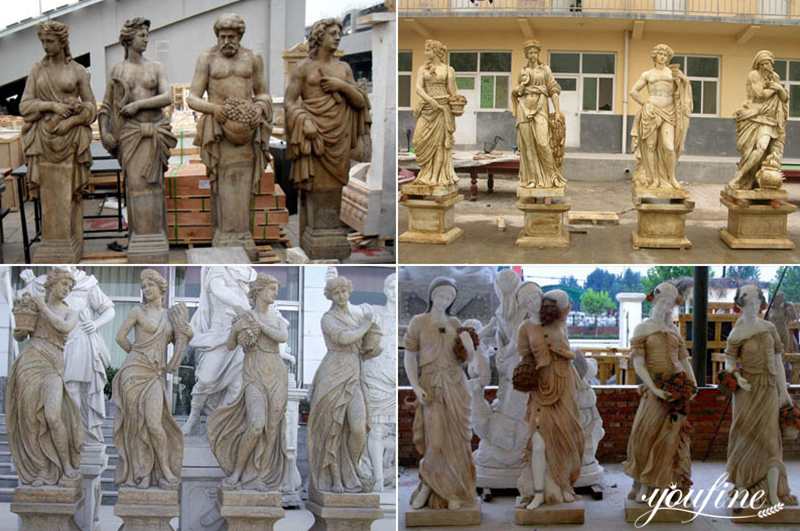 Offer Professional Service:
Obviously, the YouFine factory has very good sales staff, who could quickly understand customer needs in the process of communicating with customers. And we could not only provide customers with the most detailed sculpture information but also suggest future career development directions for customers as professional career consultants based on their own needs.
Of course, our Four Seasons statues could also be purchased separately. You could contact us at any time.
Get Latest Price
If you need the latest price list, please leave us a message here, thank you! We guarantee that your information will not be divulged to third parties and reply to you within 1 hours. Tell us your needs, there will be more favorable prices!