100% Natural Marble Angel of Grief Statue for Sale MOK-278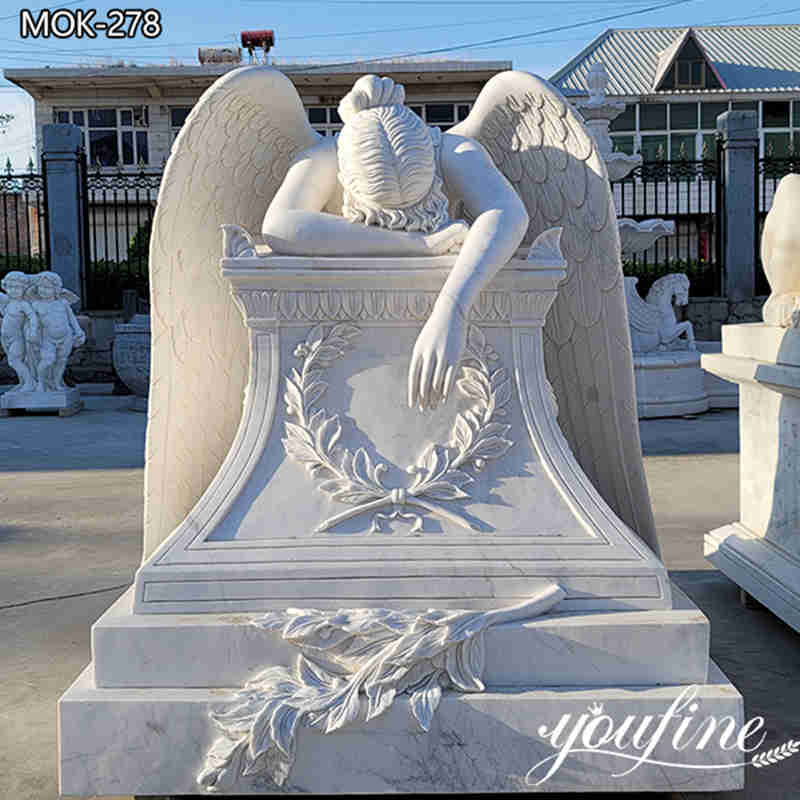 YouFine's meticulously carved Weeping Angel tombstone is full of details. Pure natural marble raw materials and fine hand-carving further bring out the superiority of this tombstone.
Item No: MOK-278
Material: Natural Marble
Size: H:130cm; L130cm
Finished Time:45 days
OEM: Yes (Any client's custom design is acceptable)
Usage: For Art/Collection/Garden/Plaza
Packaging: Standard Export Package
Payment:30% deposit,70%balance offer finished
100% Natural Marble Angel of Grief Statue for Sale MOK-278
Product Description:
The European-style angel of grief statue conveys the emotions of sadness and longing through the shape of an angel bowing his head to the ground. This tombstone is intricately shaped. Various decorative elements and other designs are very delicate. The details of the angel's hair, limbs, feathers on the wings, etc. are all in place. And the raw material of natural marble also adds some texture to it. For friends who like it, this is definitely a worthwhile angel tombstone.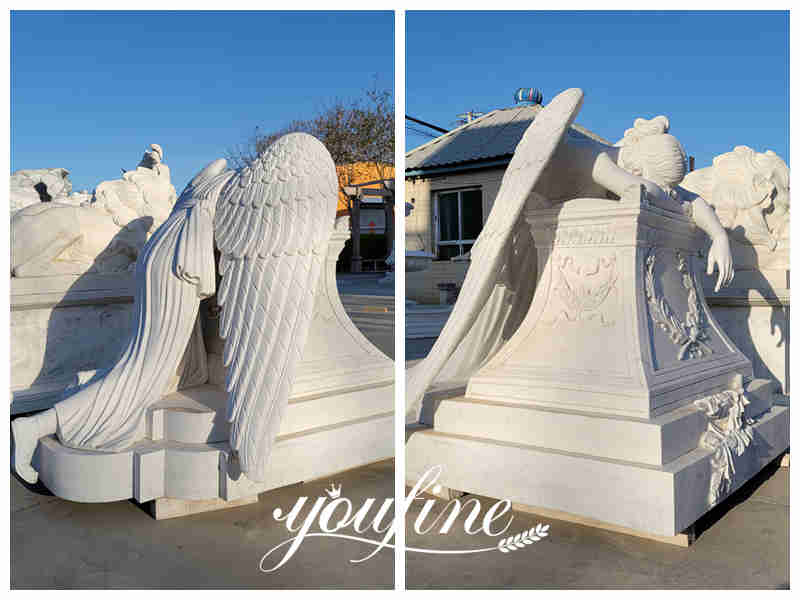 Show Details:
Every detail of our marble Weeping Angel Tombstone has been meticulously designed by our artists. Even with the same style as Weeping Angel headstones, they have some nuances. It is these distinctions that make each grief angel statue unique.
For example, we would put a bunch of flowers in the hands of some angels, some would carve letters in front of the tombstone, and some would leave a place for customers to post photos. These details are specially designed according to different customer needs. Trying to give every client the Weeping Angel Tombstone is the most special.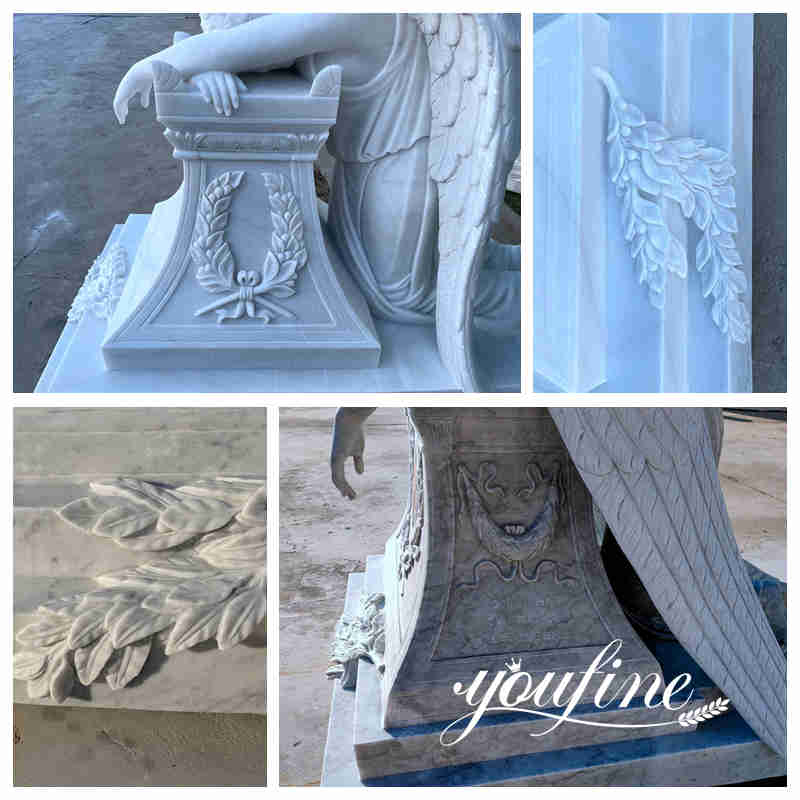 Crying Angel Tombstones in Other Materials:
We have abundant marble raw materials. Therefore, we have more possibilities in the selection of tombstone materials. In addition to this white weeping angel tombstone, we have also designed light gray tombstones, dark gray tombstones, black angel tombstones, and more. Angel tombstones of different materials would give people different visual feelings and bring different moods.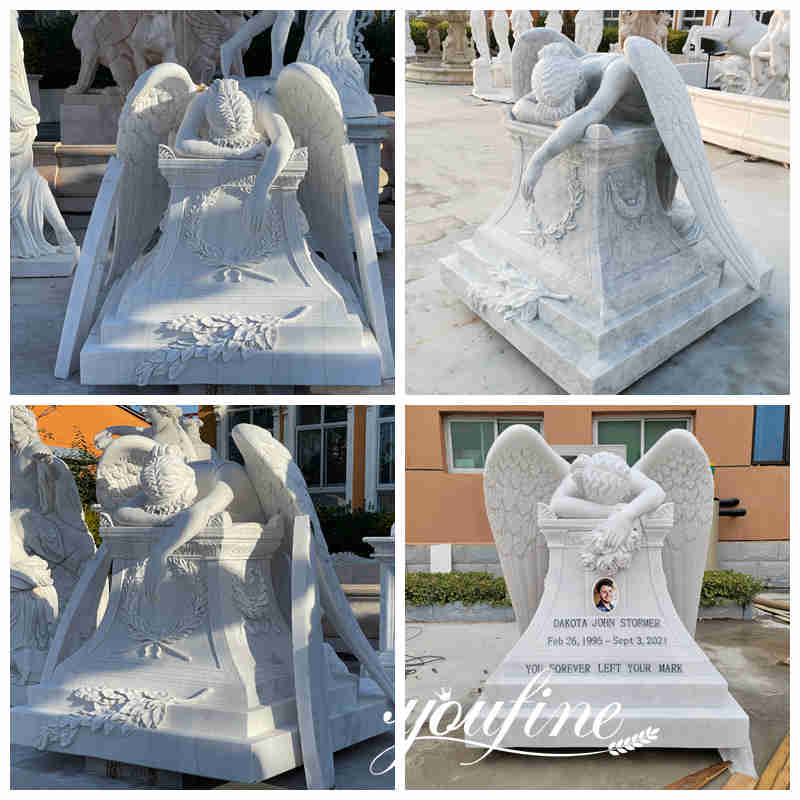 More Angel Tombstone Looks:
YouFine has been engaged in marble sculpture for nearly 40 years. There are various styles of angel tombstones designed for production. Among them, there are heart-shaped angel tombstones, rectangular angel tombstones, and irregular tombstones.
Angel's shape also has a lot of changes. There are weeping angels on their knees, graceful angels standing, sitting angels, and more. You could also contact us to make a special design and create a unique angel tombstone for you.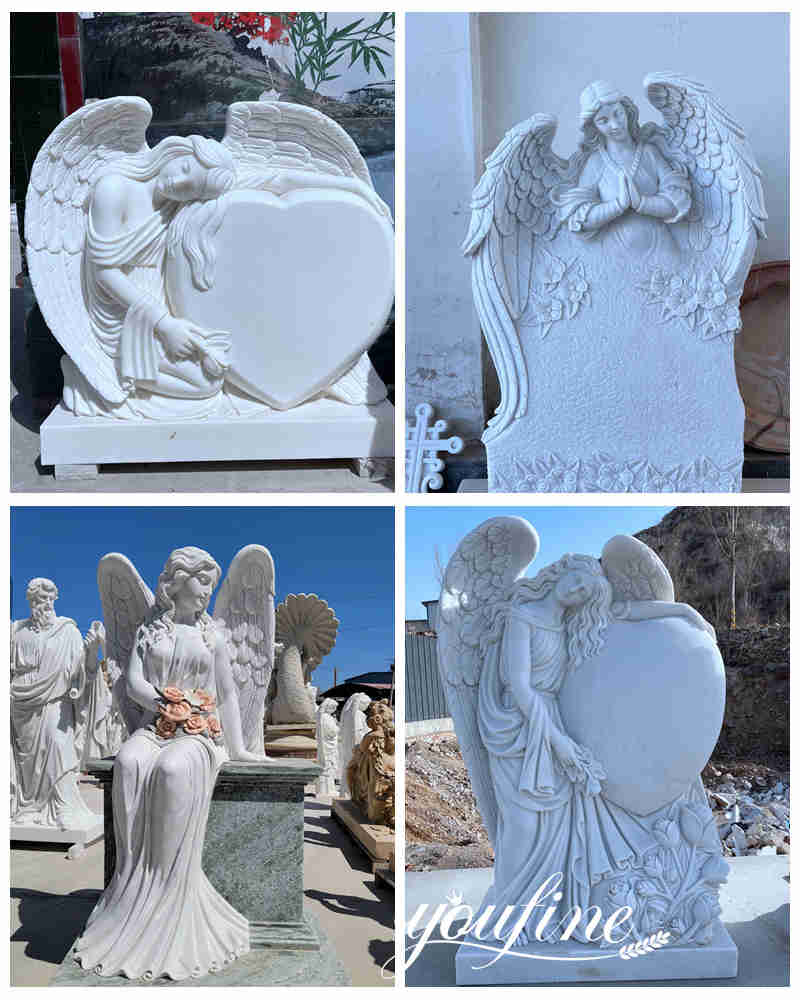 YouFine has always put customer satisfaction and product quality first. Choose us, you would be able to enjoy the best products and services. Welcome to contact us for consultation and purchase.
Get Latest Price
If you need the latest price list, please leave us a message here, thank you! We guarantee that your information will not be divulged to third parties and reply to you within 1 hours. Tell us your needs, there will be more favorable prices!